Tonight these lively animals make their debut on national TV.

My erotic plush mascots, Bunny and Clyde, are set to appear on

The Key and Peele Show

, Comedy Central @ 10:30 PM, November 20th, 2013.
The tail of these two bunnies begins when Key and Peele's prop manager, Angela, requested that this handmade plush rabbit duo undergo some serious alterations to appear on television. She was right, their former white fur would not be ideal on camera. With Angela on the phone we chose a fabric suitable to show their better side, a chocolaty brown with an intimate underside in red roses.
As soon as they were out of the box they were out on the town. I got pics of them humping all over LA, on the set and in the office.
Bunny and Clyde got off on all the attention, already stuffed, they had no need for a fluffer.
Angela knew that once Key and Peele caught a glimpse of Bunny and Clyde that they would go crazy for them. She was right, Jordan Peele posted this fur, on fur, on fur pic on his instagram. He took the words right out of my mouth, "unbelievable."
Angela, Key and Peele thank you for adopting these racy rabbits and giving them a platform to do what they do best. They seem to be very comfortable in your office - - Bunny and Clyde's money shot!
This screen shot is from the first episode this season, it was a recap of last season and teasers for this season Look who's made it, while they're making it, Bunny and Clyde (back left).
Keep your eyes peeled for these brazen humpers in the "Samuel and Lashawn" skit tonight on Comedy Central @ 10:30 PM and then get your own Bunny and Clyde! They're open to personal preferences and can be positioned in any way imaginable. Stray from that registry! Shock the bachelor/bachelorette party! A perfect gift for that couple who can't keep their hands off of each other.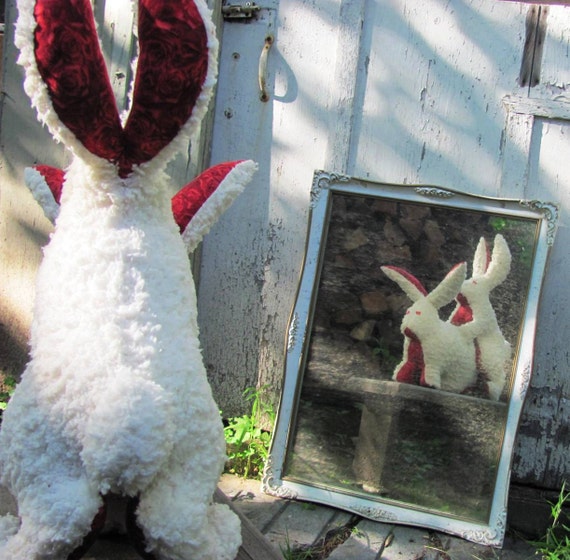 Give the gift of love. They're not shy - so why should you be!?
Stay tuned! The Bad Twin's Erotic Plush is honored to be invited to participate in Ellen Schinderman's "Stitch Fetish" at The Hive.