Momma needs a pair of new shoes!
I'm a picky motherfucker so work with me...
here, is an example of my ideal new shoe.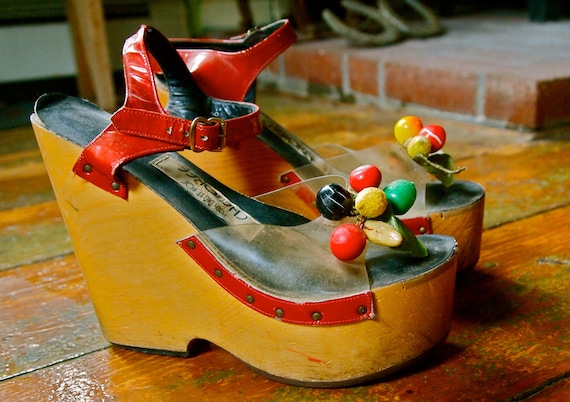 But there's a but. There is always a but! These die hard platforms are amazing. Great shaped wooded heel, red straps, cool hardware, AMAZING clear toe strap and a cherry (fruit medley) on top! AND they're my size! BUT they're too tall. For sale at
Atomic Passion
.
I want platforms but I don't want to be a million feet tall (I'm already 5'8" and these are 5+ inches).
These Sam Elderman platform heels are pony hair with some silver detail. But are they jazzy enough? I also can't tell if their blush or natural toned? Find them for sale on Etsy at
ZOCALO
.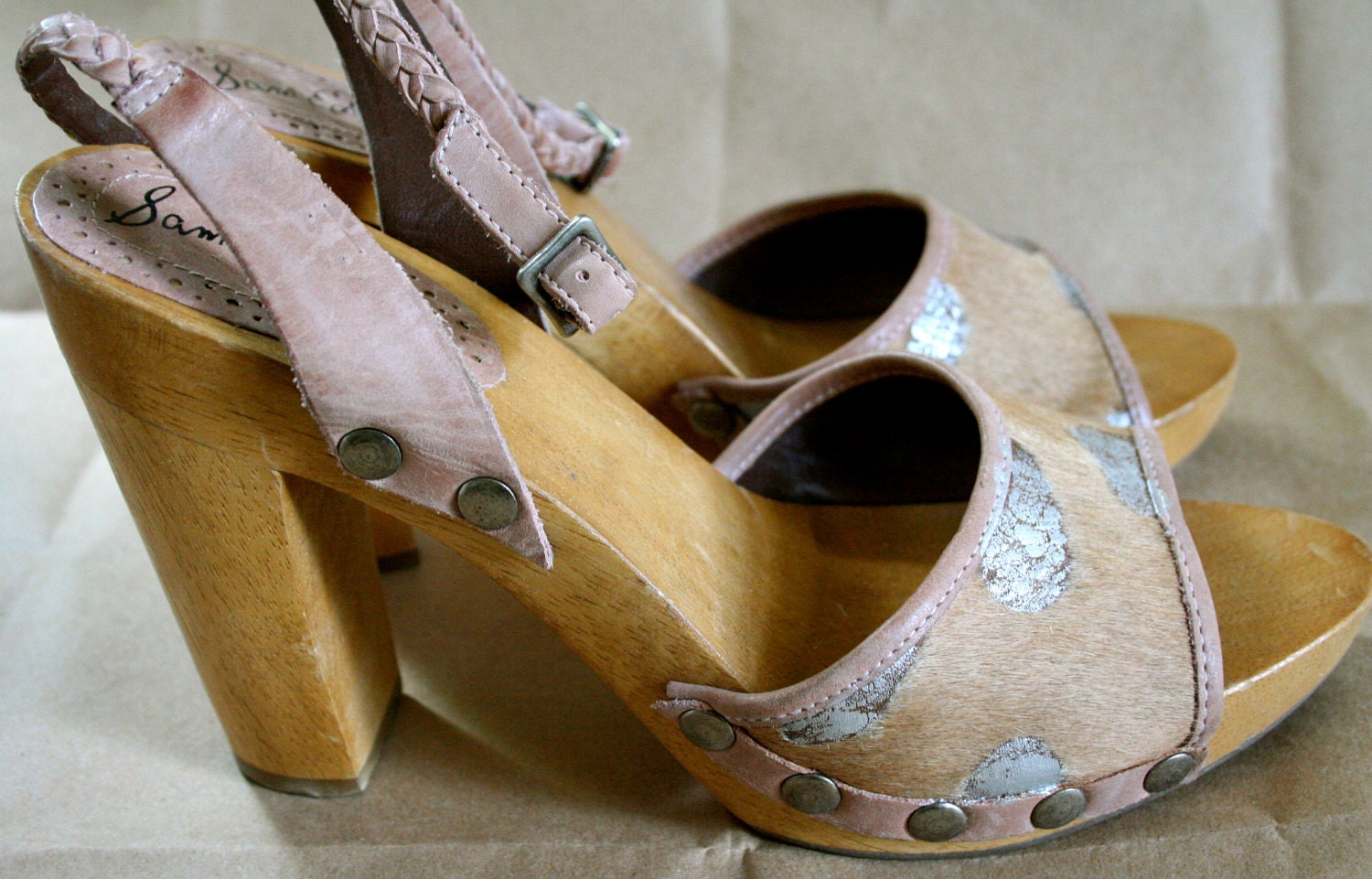 Thinking further...I'm sort of through with the nude faze and getting more turned on by the bold, patterned, or multicolored shoe. SO on to this next shoe. They're neutral in a blue jean tone yet have a rainbow hiding in the cut out detail. I like the knotted wood heels too. These are available on Etsy from the great vintage shop,
Ms. Tips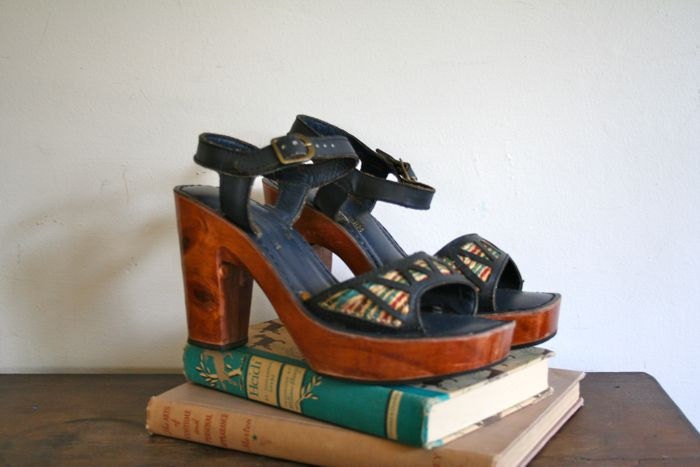 Those were the best options of authentic platforms from my fellow online vintage dealers. So I started to scan Zappos, Nordstroms and Ebay for modern platforms. These from Lucky Brand are pushing it my maximum heel height at 4 1/4 inches. Are they too thick strapped? Too many straps. Hmm. Tough one.
Although I'm looking for a platform I guess I could be persuaded to buy a wedge. The thing is the wedges I bought two/three years ago were just wedge sandals. The new trend and predominately the only option for sandals this year are a combo of both wedges AND platforms. Who wants to be that tall? Only short girls and drag queens!
Here are the wedge options...
SO I really like these VS Signature wedge sandals although between you and me they break the bank.
I think they're wicked sexy!
I LOVE the gold under the toes.
I just don't see myself being able to dress these down? Some days I want to wear wedges with my short shorts or sundresses, these serious shoes don't quite fit the bill.
Here's an example of a safe bet. That's just how I feel about these, they're too safe, just not jazzy enough.
Are denim wedges jazzy?
I had a gut feeling early on this season that I wanted/needed a jean sandal.
Sort of looks like these jeans need to be worn in a little before they get cool. To be honest I like these less every time I look at them...
So, in closing, I feel like I'm back where I started, in a hopeless search for a fantastical item. Then as I for one last moment wasted even more time internet shopping I came across these orange gems. I really like the flower patterned wedge heel. They've got a 4" heel. I can rock that. They're funky too. Hmm. I can always return them???
HELP ME CHOOSE!
(which one is your favorite/ I'll take suggestions)
x x x x x
T H E B A D T W I N